Accounts and Contacts may be bulk imported together or separately as long as each contact is mapped to an Account name. Choose either Accounts or Contacts from the navigation bar to get to the Bulk Import Wizard. 

Before beginning, you must make sure Custom Fields and Tags are put into GleanView should you need them for your import. 
Step 1 - Create Your CSV File
Row 1 will be your "column identifiers," indicating which field the data below it will be mapped to. 

NOTE: THE CLOSER THE COLUMN TITLE IS TO THE FIELD NAME THE EASIER IT WILL BE TO MAP. 

At minimum the Account Name must be included in the top row.

Once the spreadsheet is formatted correctly and ready for mapping save it as a CSV (comma-separated values) file. 
Step 2 - Import Data
Click the Accounts or Contacts from the navigation bar. 
Click  Bulk Import found toward the top right of the screen.
Click Upload to pull in your CSV. 
Step 3 - Map Fields
In the import wizard choose which GleanView Field each Spreadsheet Field will be mapped to. 

NOTE: YOU MAY CHOOSE TO OVERWRITE OR EXCLUDE DATA IN CERTAIN FIELDS. 

Examples:

Choose Overwrite when updating new Contact or Account information to existing Accounts. 
Choose Exclude when the data isn't necessary for the current import. 

Click Next.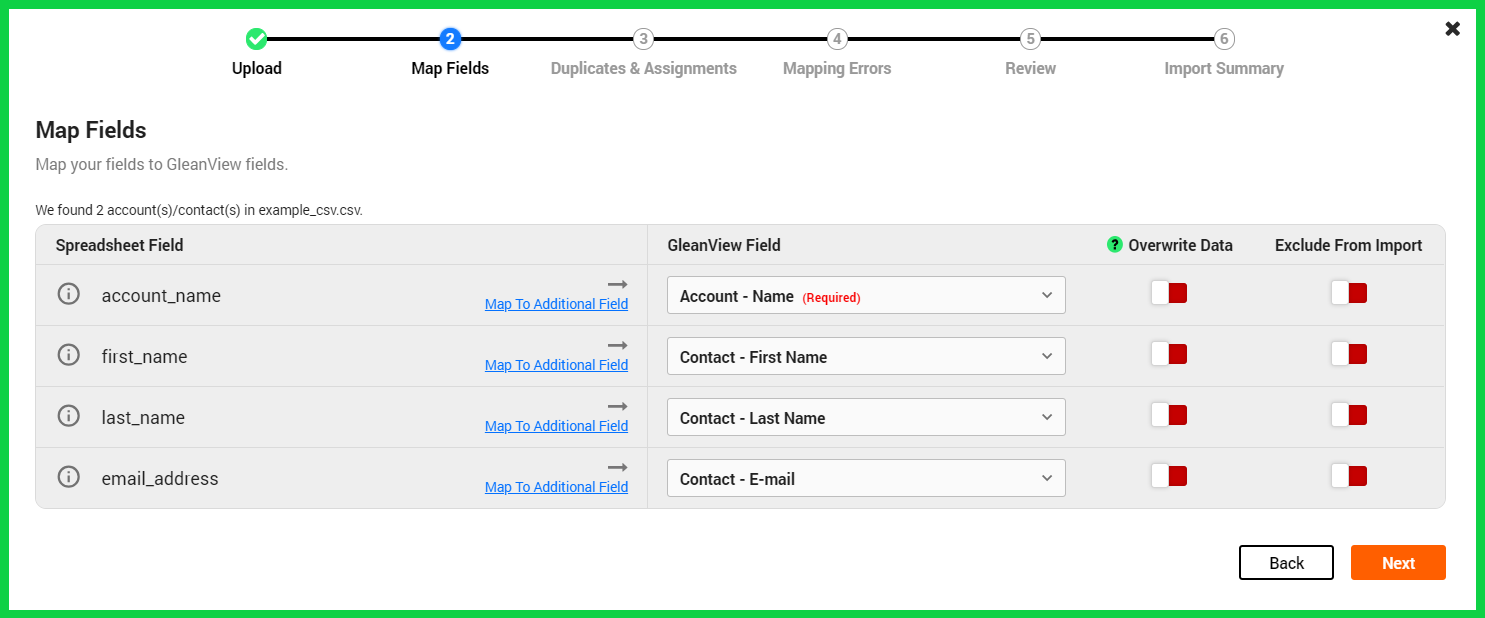 Step 4 - Duplicates and Assignments 
Choose how GleanView will handle duplicate accounts that already exists in GleanView.

NOTE: IF MERGE IS SELECTED NO NEW DATA FROM THE CSV WILL IMPORT FOR THE DUPLICATE RECORD.

Choose how the Accounts will be Assigned. 

NOTE: CHOOSING NOT TO USE ASSIGNMENT RULES WILL LEAVE THE ASSIGNMENT BLANK UNLESS ASSIGNED USERS ARE INCLUDED IN THE CSV. 

Click Next.

Step 5 - Correct Mapping Errors (If Any)
Correct any errors that are found or choose to add as "No Data" which will leave that field blank. 
Click Next.

Step 6 - Review Your Import
Review your import to confirm it's correct.
Click Accept and Import.


NOTE: THE IMPORT WILL RUN IN THE BACKGROUND AND GLEANVIEW WILL NOTIFY YOU WHEN IT IS COMPLETE.