Integrating with HubSpot CRM and Quotes
ConfigPricer Add-On for HubSpot Quotes is a
HubSpot Exclusive that allows users to c
onfigure products and pricing for HubSpot Quotes with upgraded CPQ features.
The GleanQuote/HubSpot bi-directional integration allows users to sync Products and Line Items from HubSpot to GleanQuote. Upon completion of using the configurator, a HubSpot Quote is generated with all of the products, pricing, subtotals, shipping, and taxes already included.
Users are matched between GleanQuote and HubSpot via email address. All HubSpot users that will be using ConfigPricer will need to be created as users in GleanQuote with the same email address as is used in HubSpot.
The user setting up the GleanQuote/HubSpot integration must be an admin in both HubSpot and GleanQuote.
Once you have entered GleanQuote, you will notice that the ConfigPricer Plan is already selected under the Billing Tab. You can use this tab to not only begin your subscription and add payment information but also upgrade to GleanQuote's full CPQ plans which include advanced Proposal tools as well.
Step 1: Enable the HubSpot Integration
To enable the integration from your GleanQuote account, go to company settings/integrations/other and click the Enable button on the HubSpot card.
Step 2: Login to HubSpot and Select the account you want to connect
Step 3: Confirm the integration permissions:
You will see that the Status on the HubSpot integration card now displays Enabled. You can disable the integration at any time in GleanQuote by clicking the Disable button.
Step 4: Edit the Integration Settings
Click the Edit Settings button on the HubSpot integration card in GleanQuote: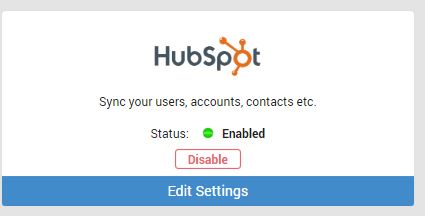 Check the Auto-populate HubSpot deal amount with GleanQuote proposal total checkbox (for ConfigPricer, this will be the quote total) if you want the total of the most recently created ConfigPricer Quote related to a HubSpot deal to update the HubSpot deal amount automatically. Since a HubSpot deal can only have one value, if you have multiple recurring periods on a quote, you can select whether you only want the non-recurring amount to populate the deal amount, or the sum of the recurring amounts (all annualized), or the sum of the non-recurring amounts and the annualized recurring amounts.
Check Auto-populate HubSpot Deal Line Items with ConfigPricer line items if you want to have all GleanQuote line items on the most recently created ConfigPricer Quote synced into the associated HubSpot Deal as line items.
If you want to Sync Products from GleanQuote to HubSpot or from HubSpot to GleanQuote, select the appropriate drop-down value. The default value is No Sync. You will need to map the non-standard fields that you want to sync. The sync occurs every 15 minutes automatically if activated.
Check Use GleanQuote Configured Model Number instead of Model Number for HubSpot SKU if you want to use the Configured Model number instead of the regular product model number in HubSpot.
Mapping Fields for Calculated Pricing:
If you are using Calculated Pricing, you can map fields from HubSpot (make sure they are numeric fields)
Map any Account, Deal or Contact fields by matching up GleanQuote field names with Hubspot field names. If you want to match HubSpot fields with custom GleanQuote fields, those custom fields will need to be created in GleanQuote company settings before mapping.
Click the Save button when you are finished mapping fields. These integration settings can be updated any time by an admin user in GleanQuote.
Only these mapped fields will be synced between GleanQuote and HubSpot.
Step 5: Verify App is Connected
You can verify that your integration is active by going to the Connected Apps section of your HubSpot account settings. You should see the GleanQuote app listed if your integration setup was successful.
To Uninstall ConfigPricer or GleanQuote from HubSpot
To uninstall GleanQuote and remove it from your HubSpot instance follow these procedures:
1. Make sure you have all data needed from GleanQuote (Product Data can be exported from the Product List Screen by selecting ALL and choosing Export to CSV)
Contact GleanQuote Support if you need assistance or have any questions using the Green Help Button in the App or on our Website https://gleanview.com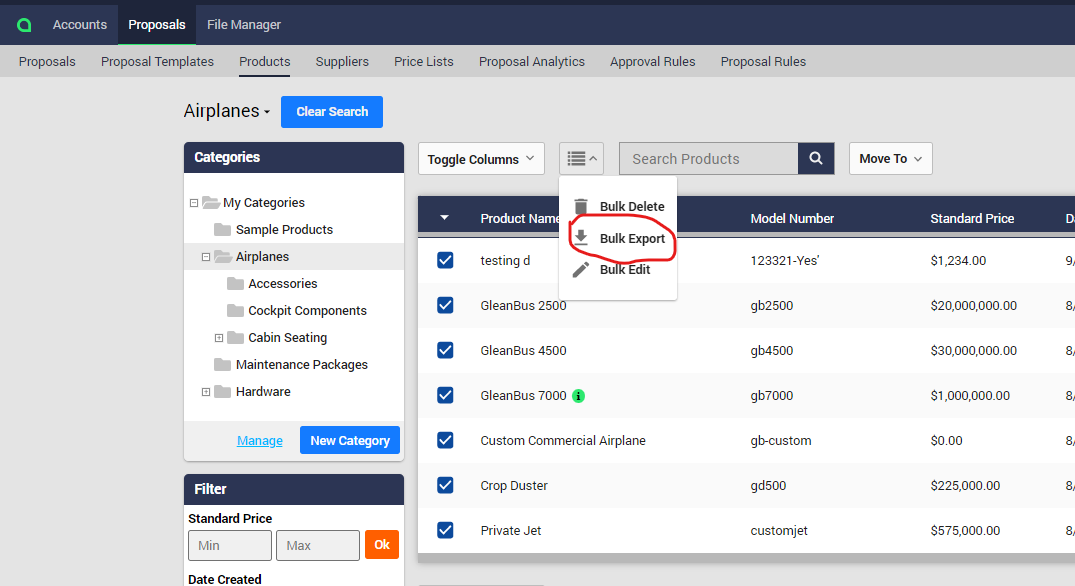 2. Login to your HubSpot Account and find Connected Apps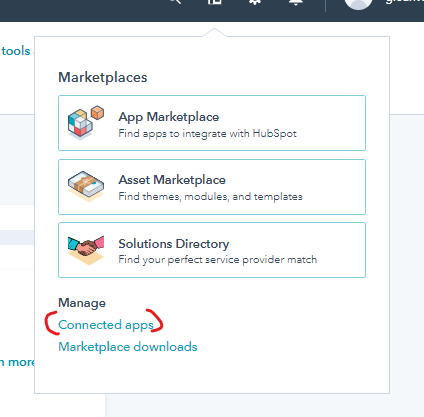 3. On the ConfigPricer App - Click Actions and select Uninstall
4.) Manually Type in the word 'uninstall' and confirm by clicking the Uninstall button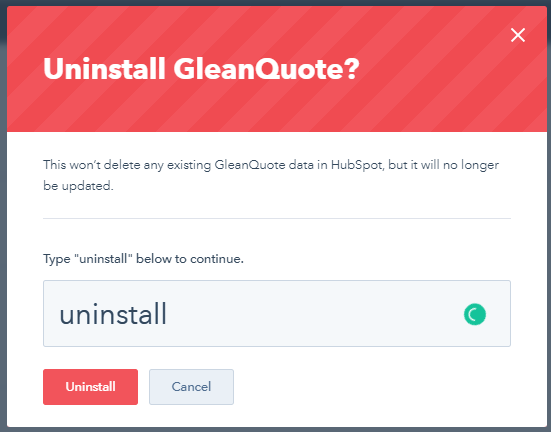 5.) If you need to cancel a paid GleanQuote Subscription, contact GleanQuote directly from the Green Help Button inside the App or on our website: https://gleanview.com