GleanSpaces are digital deal collaboration workspaces that are automatically attached to every proposal created with GleanQuote. Within GleanSpaces, you can collaborate internally and externally before, during and after the deal is completed.
ACCESSING GLEANSPACE
For existing proposals and templates that were created before 3/28/2023, you will not be able to access GleanSpace. These proposals and any new proposals created from these templates will use the previous proposal viewer for e-sign. If you want to continue using the previous workflow, no change is needed in how you were doing things before.
If you are familiar with our previous proposal viewer, think of GleanSpace as a more robust, customizable version of the same viewer. If you want to convert your existing templates to use GleanSpace, simply duplicate them and they will automatically be converted to the new GleanSpace.
You can access GleanSpace from three different entry points:
1. from the three dot menu in a proposal or list view, or simply clicking on the proposal or template name in a list view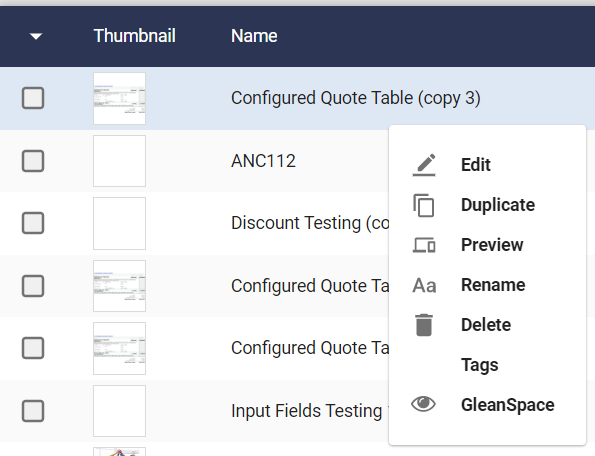 2. from the proposal overview page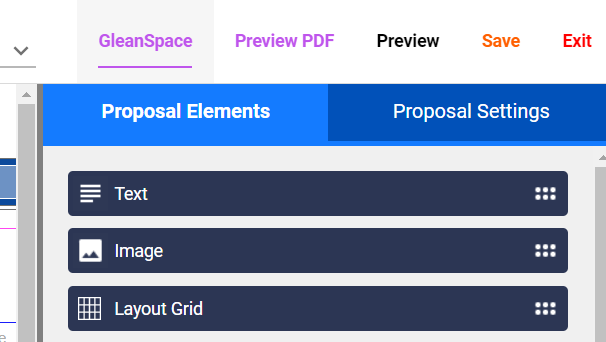 3. from inside the proposal or template editor

Once you are inside GleanSpace and you exit from GleanSpace, you will always return to the same page that you accessed it from.
GLEANSPACE SETTINGS
Once you have accessed GleanSpace for a template or proposal, you can customize the space by clicking the settings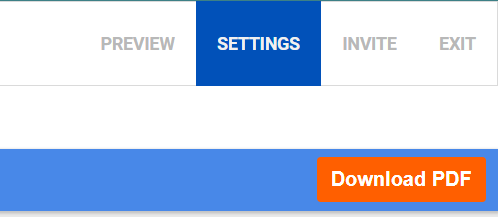 The settings modal displays and you can make adjustments to customize: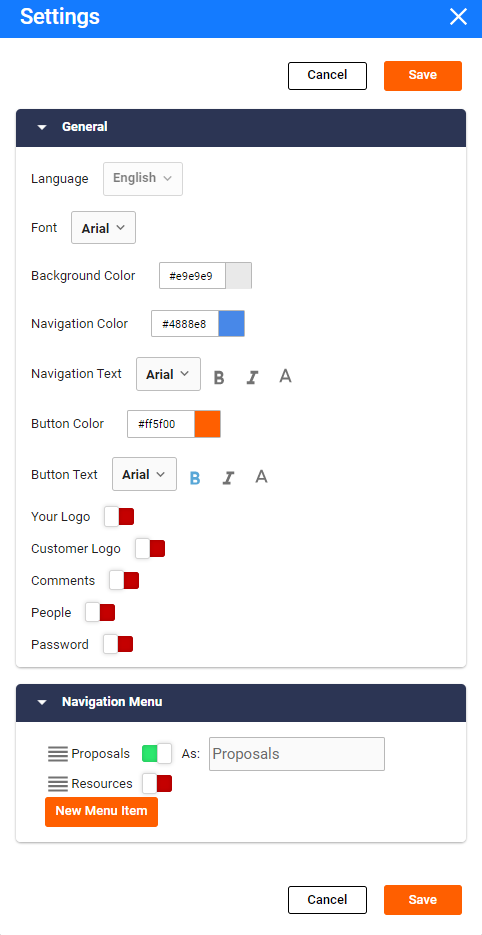 Language: language of the hardcoded text in GleanSpace displays in. Cannot be edited unless multi-language enabled in company settings / language.
Font: font settings of the hardcoded text in GleanSpace.
Background Color: Color of the background
Navigation Color: Color of the top navigation bar
Navigation Text: Font settings for the navigation
Button Color: Color of the buttons (default is orange)
Button Text: Font settings for the button text
Your Logo: If toggled on, then Your logo displays above the navigation bar. Default is from the logo uploaded to Company Settings, or you can upload a different one here
Customer Logo: If toggled on, then you can upload your customer's logo and it will also display above the navigation bar - next to Your Logo if toggled on.
Comments: If toggled on, then messaging is enabled for GleanSpace -- more description of this functionality later in this article
People: If toggled on, then display people icon that displays list of contacts invited to the space
Password: If toggled on, then you can set a password that must be input before contacts can access the space
Proposals: If toggled on, then display this item in the hamburger menu at the top left. Also, you can rename this menu item
Resources: If toggled on, then display Resources page in the hamburger menu which allows you, any other user, or invited contact to upload shareable files.
New Menu Item: Click to create a new hamburger menu item. It will be setup like an additional resources page.
Any GleanSpace settings that you configure in a template will carry over to any proposal created from that template.
ADDITIONAL SETTINGS
For Draft Proposals, you can check the box to Show to Contacts that you have invited to the space to view the proposal, even though it is in draft status. The contacts will of course not be able to sign the proposal, but it might be useful in some cases to display the draft proposal to them so that you can collaborate on the final version. NOTE: You will be able to display UNAPPROVED, DRAFT proposals to contacts using this, so use with caution.

You can generate shareable links to invite other contacts and users to the GleanSpace to collaborate by clicking the Invite link. Note, you will still need to use the SEND link inside of the proposal editor to send a proposal to a contact to sign.

You can specify whether the contact is view only (not able to comment or add resources) and then copy the link and email it them. If you toggled Password on in the GleanSpace settings, contacts will not be able to access the GleanSpace without entering the password.
PEOPLE
If you have toggled on People in the settings, then the people icon will display and clicking it will display the proposal owner's name and contact info and also the contact info for any contacts that have been invited to the GleanSpace.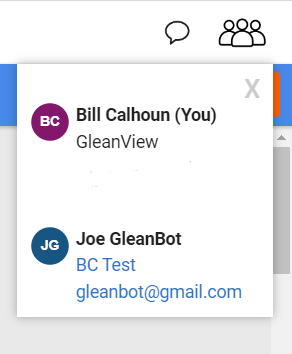 COMMENTS
You can create new messages by clicking the message icon. Messages can be Public (contacts can view) or Private (only GleanQuote users can view). You can also select a Reference point for the comment. Reference points are either the Proposal section names, or Resource file names.
Private comments are highlighted in Yellow and have a PRIVATE label.
You can @mention other GleanQuote users and an email notification will be sent to them with the comment.
You can only edit or delete your own comments.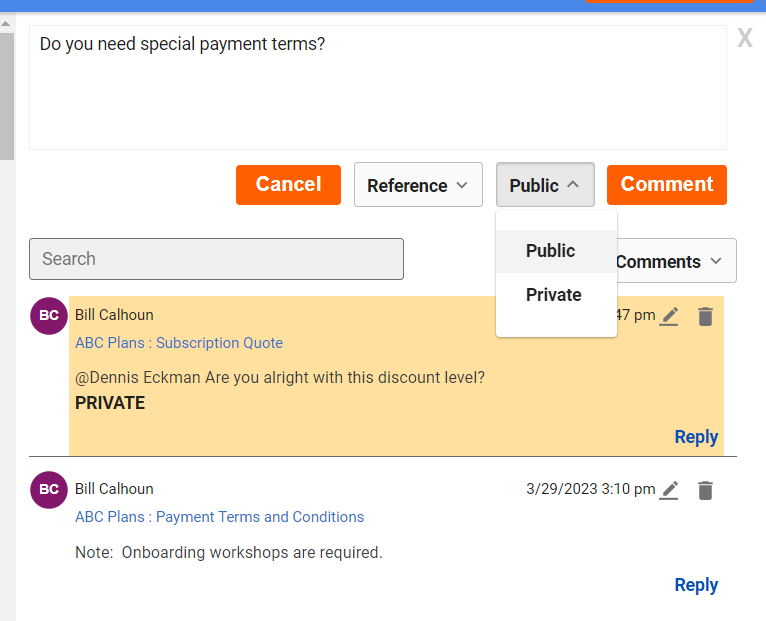 RESOURCES
You and any other GleanQuote user and any contact invited to the GleanSpace can add resource files to the resources page. You can add a file, or embed a google doc / worksheet or loom or vimeo or youtube video.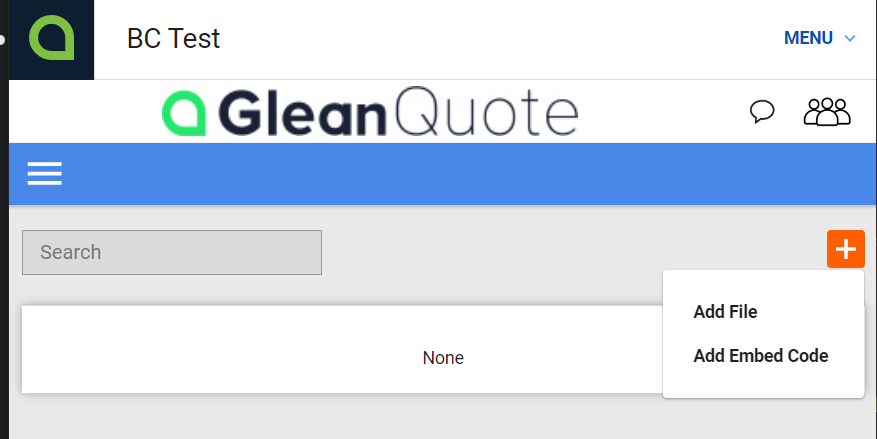 Clicking Add File opens up the Content library modal if you are a GleanQuote user or Your Computer if you are a contact. The default state of a file is Public, unless you click the three dot menu under the file after it is added and select Mark as Private.
You can delete any file that you upload. You cannot delete files that others have uploaded.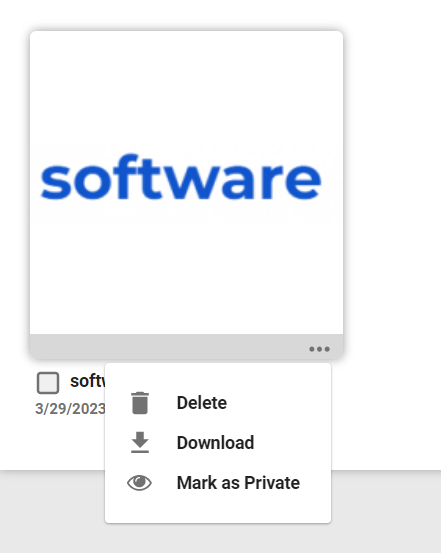 Any resources you add to a Template will carry over to any proposal created from that template.