When you send a proposal to your contacts through GleanQuote, they will receive an email with a link to open the proposal.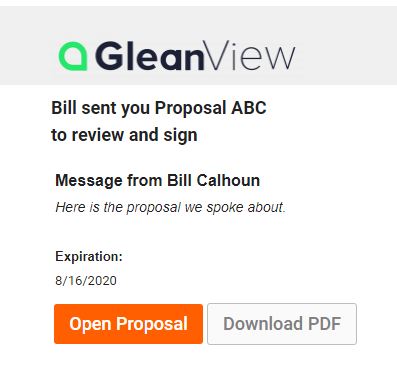 These links are unique to each person you send the proposal. Each proposal signer has an individualized link used for tracking purposes, so the link from the email notification should not be forwarded or shared. Each person should access the link from their own notification email.
When the Open Proposal link is clicked, a web page is displayed in the browser with the HTML version of your proposal. This page is the proposal viewer and it is where your customers will view and sign your proposals. The proposal viewer page is mobile responsive and can be displayed on any device.

From this page, you can print or download the proposal. The drop down under the print and download buttons enables navigation to different sections of a proposal.
There is a counter at the bottom left that lets you know how many places on the proposal require your input (either input fields or signature). Clicking the Next button will automatically scroll the proposal to the next spot that requires input or signature.
Input fields are displayed with an orange button with the name of the field and a pencil edit icon. When you click the input field button, the cursor automatically becomes active in the field and you can start typing your input. When you are finished, simply click the check mark and the field will display a green highlighted border to indicate it is complete and cannot be edited. Clicking the x will delete your input and restore the button.

Signature fields are displayed with an orange Sign Here button.
Once the signer clicks the Sign Here button, a signature modal will be displayed for them to type their signature and accept the e-sign conditions that make their signature legally binding.
Your signature will then display on the proposal with the date fields automatically populated.

Once all input fields and signatures have been completed on the proposal, the bottom counter button will change from Next to Finish and Submit.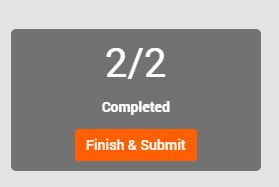 Once you click the Finish & Submit button, then a completed confirmation will display: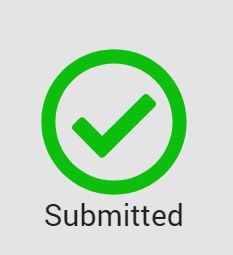 Once all signers have signed the proposal, each person will receive an email notification with a link to the pdf of the completed/signed proposal.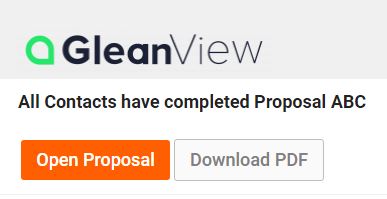 AUDIT TRAIL
You can include a signature audit page in the completed pdf, which will have time stamps and ip addresses of all of the events related to the electronic signing of the document. This page can be included by toggling on Audit Trail in the Proposal or Proposal Template settings.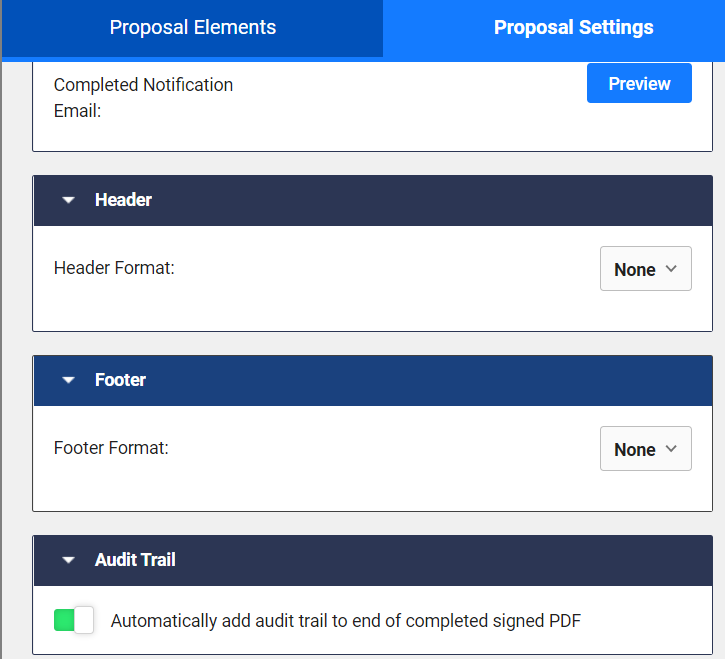 If the Audit Trail toggle is ON, then once a proposal is completed, an audit trail page will be appended as the last page in the proposal pdf.