The GleanQuote Integration for JotForm allows you to use form data and quickly build a proposal, quote, or document for that customer using the information gathered from your form.
This entire integration is managed inside JotForm and can be different for each and every form you create.
Imagine being able to send a professional, accurate quote within minutes to someone who just filled out your Request a Quote form online.
Using your Company Information
Using the Customer and Contact data filled in on your JotForm or saved if it is a repeat customer
Using your customized Pricing Library of Products and Services for speed accuracy
Why wait for a list of who filled out the form so you can get something to them later?
GleanQuote was designed to make your Proposal and Quoting Process Simple and Professional.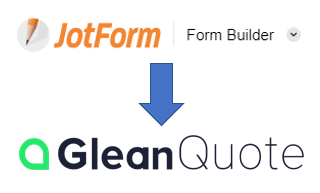 GleanQuote Features Overview
Advanced Pricing and Product Options
Searchable Product and Pricing Catalog
Quote Editor with custom settings
Advanced user permissions and pricing controls
Multi-Language and Multi-Currency
E-Sign and E-Payment
Drag and Drop Proposal Builder
Custom HTML Element
Activity Tracking Sync to Pipeliner
User and Recipient Notifications and Reminders
For a quick overview of GleanQuote, watch the Quote Anything video below..
Starting the GleanQuote Integration
From the Form Builder in JotForm, load any form and click the Settings Menu / Integrations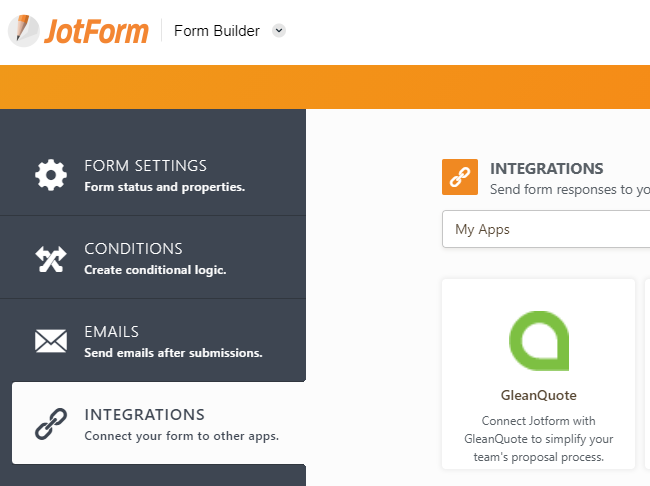 Search for the GleanQuote integration in the Marketplace, or load from My Apps if you have used it before.
When you click on the GleanQuote App Tile, the Integration Settings window will load.
Click the Open Integrations Settings button to be directed to the Setup Page.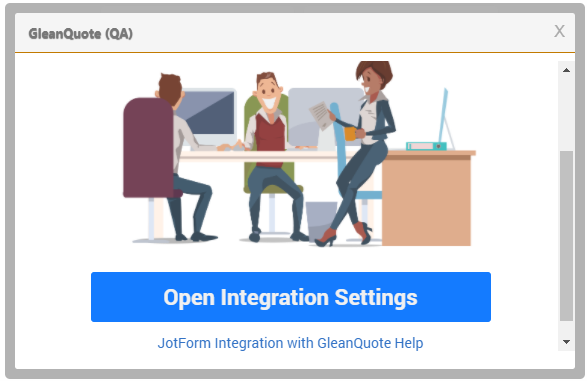 Note: If you do are not already logged into GleanQuote, you will be directed to the login page where you can either log in or even start a new Trial for Free in order to test it out.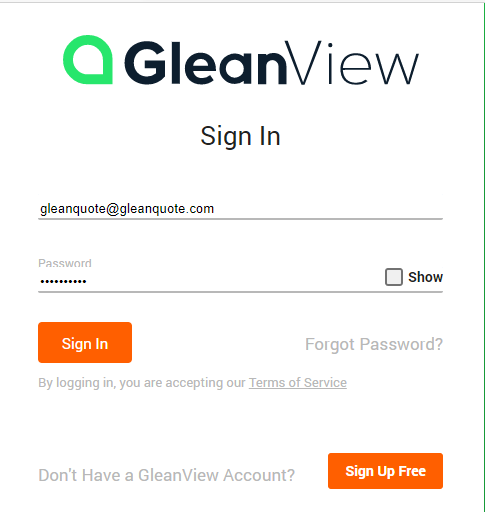 GleanQuote Integration Settings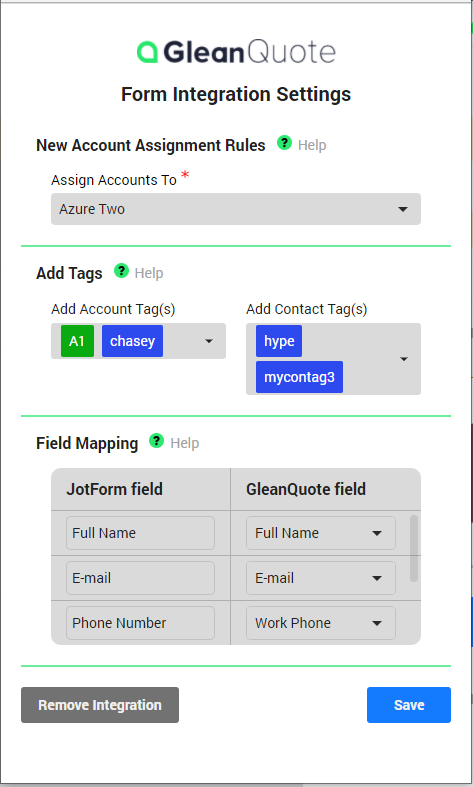 Once you are in the GleanQuote Form Integration Settings, there are three sections to set up.
Note: When each form is filled out, GleanQuote will use an algorithm to identify if that customer already exists in the system. If they are not in the system, a New Account and New Contact will be created.
New Account Assignment Rules

GleanQuote will need to know which user to assign any New Accounts that are created
Users will need to be set up in GleanQuote first. Click here to manage users.
For larger teams, you can designate one specific user to then re-assign, or use the 'Round Robin' feature and select which users are participating. (This setting can be changed at any time)

Tags (optional)

If you use specific customer or contact Tags, you can specify them here.
Tags need to be created in GleanQuote prior to use. Click here to create tags.

Field Mapping

When someone fills out your online form, you will need to make sure that the basic required fields are used in order to pull in that customer record and use GleanQuote

The three basic required fields are:

Account Name (for B2C companies, often this is a Job Name or Property Name)
Contact First and Last Name
Email Address

You can easily set up additional fields in GleanQuote and make them required as well, depending on your business needs.
Note: If there are any fields from your JotForm that do not line up with an existing GleanQuote field, the fields will need to be created in GleanQuote first. Click here to create custom fields.
Using GleanQuote
There are many resources available to learn more about how GleanQuote works.
The fastest and easiest way is to use the QuickStart feature (Click the green Help button in the App)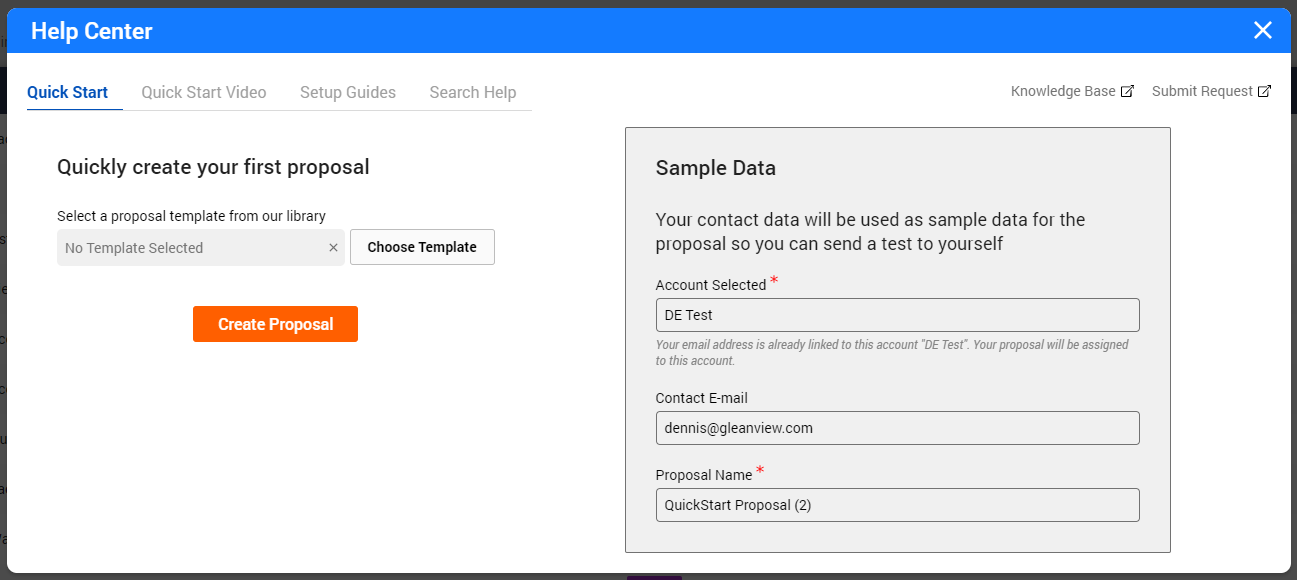 You can also watch the Quick Start Video Here (Quick Start Video)