Create Product Records
User Role Permissions Required:
Products: View = All

Create/Edit = All.

Suppliers View = All

Create/Edit = All

Before using the quote table in proposals, you will need to add all of your products to GleanQuote. Before adding your products, you will need to first set up your suppliers and create any custom product fields.
Products are associated with Suppliers. If you make all of your own products or provide all of your own services, your company will be the only Supplier record needed. You can create your supplier in the Suppliers tab.
Products can have up to 50 custom fields. Custom fields are created by your admin in Company Settings/Customization/Widget Fields. You can also create any product tags you need in the Tags section here.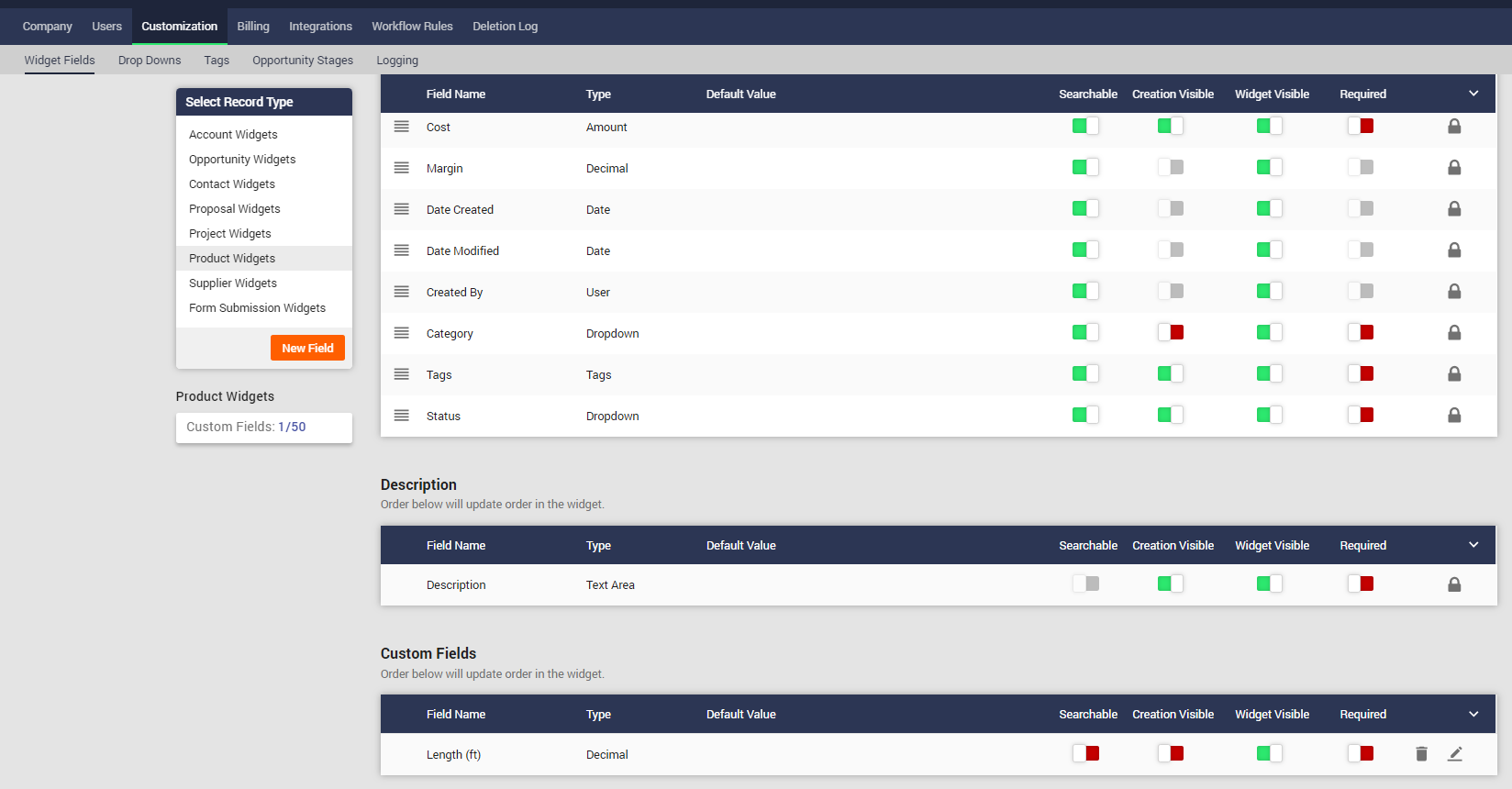 New products can be created one at a time, or through the Bulk Import button on the product list view.

You can add or change the columns in this product list view by clicking the Toggle columns drop down and selecting the columns you want to be included. You can also resize and reorder the columns using your mouse and drag and drop. After you are done getting the list view exactly as you like it, you can save that view by clicking the Saved Filters link.
Quote Table Settings
Once you have added the Quote element to a proposal in the proposal editor by dragging the element to the work canvas with your mouse, you will see the following screen:

You can customize the quote table with the following settings on this page:
Line Item Discount
Add a discount column to each product line item


Line Item Quantity / Hours
Change product/service unit of measure to Qty or Hours


Request Payment
If you have a payment integration, this setting allows you to automatically collect payment after the proposal is signed


Tax
Adds an editable field for Tax in the subtotal block


Shipping
Adds an editable field for Shipping in the subtotal block


Additional Discount


Adds an editable field for an Additional Discount to be applied to the Subtotal
Adding Items to Quote Table
It's easy to add items to your quote table. You can search for a product to add by name or you can use the advanced search tool to find products by any attributes like model number, price or tags.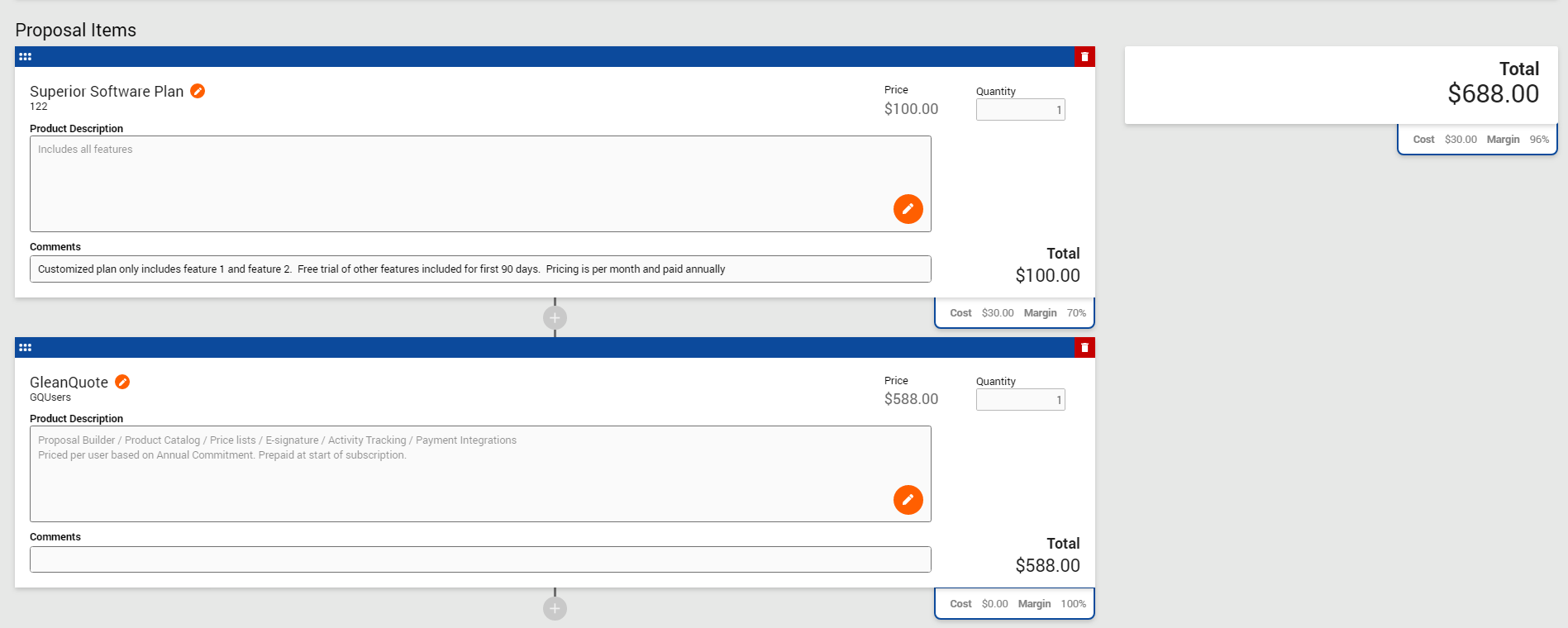 If you want to create a new custom product that is not yet added to your product database, click the orange Create New Product button that is at the bottom of the typeahead product search results. You will be able to select whether to add this new product to your permanent product database or just use it for the current quote only.

Permissions Note: Users that do not have Product permissions of Create/Edit = All will not be able to edit the product description in the quote table. However, all users will be able to edit the comments field for each product, which is a good place to add any adjustments to the standard product description.

Margin and cost are displayed both at the product level and at the overall quote level. These fields are not displayed on the proposal that is sent to your contacts and only users with Product View permissions of Quotes with Cost will see these fields when editing a quote table.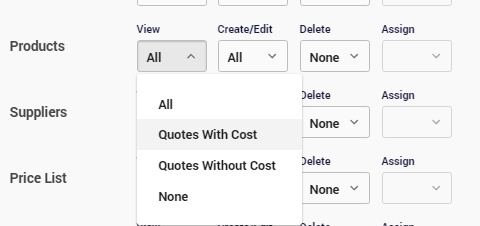 You can add new items to the quote by clicking the + button. You can reorder the products on the quote by using the grab bar in the upper left corner of the product.

Adding Sections to a Quote Table
Sections allow you to organize the quote table portion of your proposal. Sections are added by using the same + button that is used to add products to a quote. There are two settings that control where Section subtotals are displayed. The line item setting controls if Section subtotals are displayed next to the section name on the quote. The Subtotal setting controls if Section subtotals are displayed in the Subtotal block of the quote.

This is how a completed quote looks with Sections: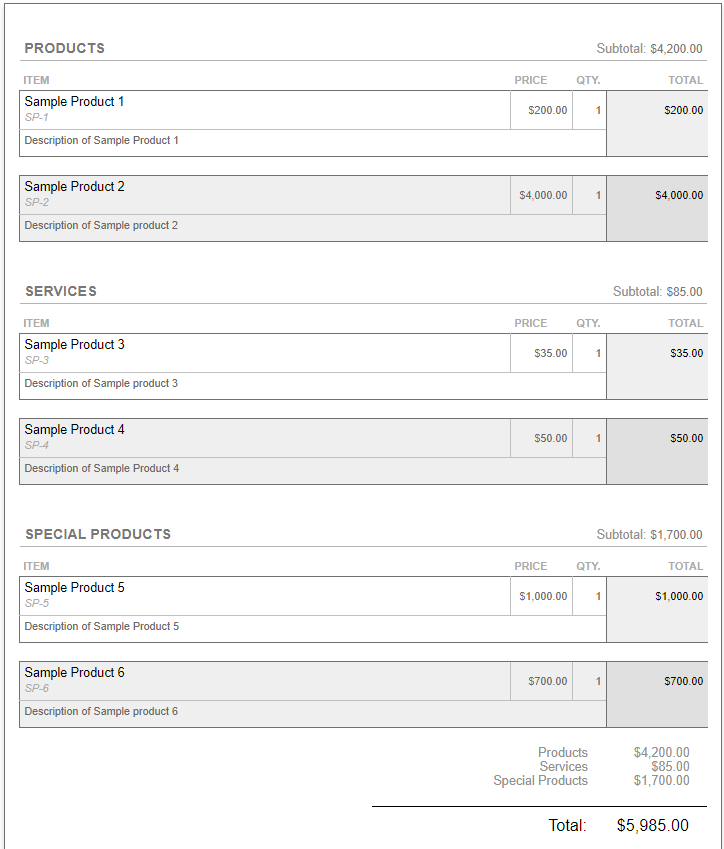 Important Notes:
There can only be one quote table in each proposal or proposal template.